UK calls UN resolution on Srebrenica genocide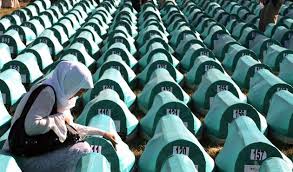 Britain is drafting a resolution at the United Nations Security Council to mark next month's 20th anniversary of the Srebrenica massacre in Bosnia, potentially piling pressure on Serbia to recognise it as genocide.
On July 11, Bosnia will commemorate two decades since Bosnian Serb forces swept into a U.N. safe haven and killed 8,000 Muslim men and boys in the days that followed, dumping their bodies into pits in the surrounding forests.
The Hague-based U.N. tribunal for the former Yugoslavia has ruled that the massacre — the worst mass killing on European soil since the Nazis — constituted genocide, a term the Bosnian Serbs still dispute and which Serbia studiously avoids.
Britain's ambassador to Bosnia, Edward Ferguson, said in a statement that the exact content of the resolution was still under discussion.
But, he said, "we expect that it will commemorate the victims of the genocide at Srebrenica, and those who suffered on all sides in the war, and that it will encourage further steps towards reconciliation and a brighter future for Bosnia and Herzegovina."
In 2010, as it sought closer ties with the West, Serbia adopted a declaration condemning the massacre, but without describing it as genocide, and former President Boris Tadic attended the 15th anniversary commemoration.
Under late strongman Slobodan Milosevic, Serbia backed ethnic Serb forces in Bosnia and Croatia, where a total of some 125,000 people died as socialist Yugoslavia fell apart.
It is not yet known who will represent Serbia at this year's commemoration, but Belgrade has already expressed unease at the prospect of a U.N. resolution, which would require either a 'Yes' vote or an abstention from Serbian ally Russia.
"We currently have information that a big power is preparing a resolution on Srebrenica, and the question now is what will it contain," Serbian Foreign Minister Ivica Dacic told B92 television on Sunday, before Britain's confirmation.