UK lawmakers debate banning Trump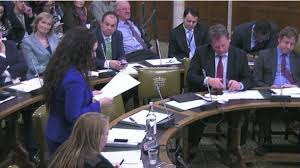 British lawmakers held a debate on Monday on a petition signed by more than half a million people calling for US Republican presidential candidate Donald Trump to be banned from Britain after he said Muslims should not be allowed to enter the US.
Last month, Trump provoked controversy with his comments that Muslims should be banned from entering the US, after 14 people died in a shooting spree in California by two Muslims whom the FBI said had been radicalized.
Separately, British Prime Minister David Cameron said on Monday, in a move aimed at fostering greater integration by Muslim women, that some migrants to Britain who cannot pass an English test within 2-1/2 years of arriving may not be allowed to stay.
Cameron said there were 190,000 British Muslim women who spoke little or no English and Britain needed to take on the "backward attitudes" of some men whom he said exerted damaging control over their wives, sisters and daughters.
"Someone can move to here with very basic English and there's no requirement to improve it over time. We will change that. We will now say: if you don't improve your fluency, that could affect your ability to stay in the UK," Cameron wrote in an article for the Times newspaper.
"This will help make it clear to those men who stop their partners from integrating that there are consequences."
The government will invest 20 million pounds ($28 million) in English classes for women in isolated communities, and from October this year will begin testing those who have come in to Britain on a spousal visa to check if their language skills have improved. Cameron said while there was no direct causal link between poor English language skills and extremism, those who were not able to integrate into British society were at risk of being more susceptible to extremist ideologies.
"Separate development and accepting practices that go against our values only emphasize differences and can help prompt the search of something to belong to," he wrote.
But his comments were criticized by Muslim groups, who said the British leader was "denigrating" Muslims rather than working with communities to help tackle extremism.
"The Prime Minister David Cameron and his Conservative government are once again using British Muslims as a political football to score cheap points to appear tough," said Mohammed Shafiq, chief executive of the Ramadhan Foundation.