UK mosques open doors to homeless as temperatures plunge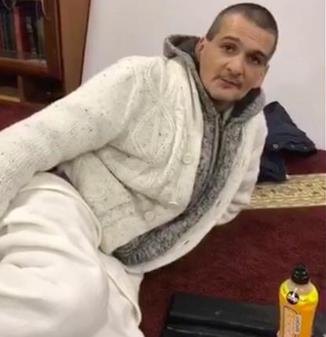 Several mosques in the United Kingdom and Ireland are opening their doors to the homeless as icy weather continues to bite, with temperatures hovering below zero degrees.
Concerns for vulnerable people grew on Friday as the Met Office issued a red alert for snow – the highest level of warning – for parts of southwest England and south Wales.
Yellow and amber warnings were in place across the UK on Friday and into the weekend, with Storm Emma bringing heavy snow and strong winds.
"The temperature is pretty severe, so we thought, 'Why don't we do something to help?'" Rabnawaz Akbar, a trustee of Makki Masjid in the northern city of Manchester, told Al Jazeera.
Over the past couple of days, a handful of volunteers have camped out at the place of worship, providing food and shelter to Manchester's homeless.
The mosque is also offering its shower facilities to those seeking a place to stay.
Because the mosque is situated in a predominately South Asian area, the meals on offer include traditional Bangladeshi and Pakistani meals such as rice and curried chicken.
Akbar said homelessness in Manchester is growing.
"Austerity measures over last eight years mean the support services that people need are not there any more," he said. "This results in people sleeping rough. The solution is not just about people having a roof over their heads. Some of these people have mental health issues, they are domestic violence victims, drug addicts or undocumented immigrants – they have no recourse to public funds.
"To make sure they are off the street, you need support services around them, not just give them somewhere to stay for a night. Unfortunately, due to budget cuts at local authorities, [councils] do not have the resources."
Jamie was among four people who slept in the mosque on Thursday evening.
"I'm an addict. I've never been in a mosque in all my life," he said. "I was in two minds over whether to get myself some heroin or crack, so that I could be okay for the night. As I was thinking about this, a guy came from the side and said, 'You're homeless, would you like to spend the night in a mosque?'
"They made me feel very welcome, gave me something to eat, to drink. Something that the basic council can't even provide for us."
Jamie said that the media often portrays mosques in a negative manner.
"You always get the stereotypical [portrayal] of mosques … Not everybody is like that. I've not been encouraged to be radicalised. It's 'Are you hungry? Are you okay?'."
Leeds Grand Mosque, Oldham Mosque, Finsbury Park Mosque, Canterbury Mosque and Dublin's Clonskeagh Mosque, which is part of the Islamic Cultural Centre of Ireland, have also opened their doors to the homeless.