UK mosques open doors to public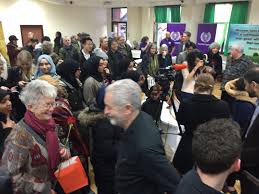 Thousands of Britons were welcomed into over 80 mosques across the country on Sunday 7 February, as part of the second annual 'Visit My Mosque' Day.
Mosques across England, Wales, Scotland and Northern Ireland invited in neighbours to share tea and refreshments, alongside an insight into the day-to-day goings on of a busy Muslim centre of worship.
#VisitMyMosque Day was facilitated by the Muslim Council of Britain (MCB), to provide a platform for Muslims to reach out to fellow Britons and explain their faith and community beyond the hostile headlines.
Speaking at the nationwide launch yesterday at London Central Mosque, Dr Shuja Shafi, MCB Secretary General said, "We were struck how this initiative resonated so well with the British public last year. We found that there was a huge demand for this so decided to facilitate the event again this year, and we are pleased to have over 80 mosques participating."
Local mosques also invited inter-faith leaders as well, to come together to demonstrate unity and solidarity, while many visitors were just curious local residents. David from Hendon said, "I've driven for many years past London Central Mosque wondering what goes inside, but when I got an email telling me there was an open day, I decided to come today and visit."
Posting on Facebook, Frances Stanfield said, "Just back from Medina Mosque Southampton. Lovely hosts and some interesting and open conversations."
Tanvier Ahmed, Outreach Team at Darul Isra Mosque in Cardiff, said, "The majority of mosques have open doors so you can walk in at any time. Today we're just making that extra special effort by putting on an event, but we welcome visitors throughout the year."
Dr Salah Beltagui, Muslim Council of Scotland, said, "We hope that such events are the start of new acquaintances between Muslims and their neighbours of other faiths or beliefs, and be a start of relationships and joint work to improve the lives of all communities in future."
Mosques up and down the country invited local faith leaders and civic and political leaders. Many politicians participated at local mosques including Labour leader Jeremy Corbyn MP, and other members of Parliament including Bob Blackman, Stella Creasey, Fabian Hamilton, Wes Streeting, James Flanagan and Rupa Huq.
The full list of mosques that took part yesterday can be found online at: www.mcb.org.uk/visitmymosque
A small number of mosques will be holding their open days this coming weekend on 13th and 14th February for logistical reasons.