UK party pledges 90% immigration cut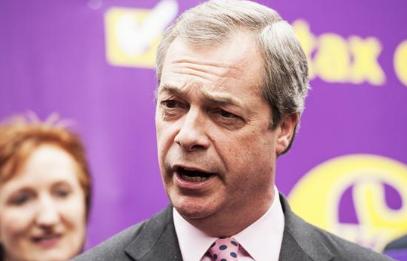 The head of the UK Independence Party on Tuesday promised to slash net migration into Britain by 90 percent as he unveiled an election poster showing escalators riding up the White Cliffs of Dover.
In a campaign stop at the ferry port city, Nigel Farage accused Prime Minister David Cameron of being "dishonest," arguing that Britain could not control immigration while staying in the European Union.
Farage said he would cut net migration to around 30,000 people a year from the current level of some 300,000 a year. The Conservatives had promised to reduce the numbers to under 100,000 a year.
"I'm saying a net level of about 30,000 a year is roughly what we had for 50 years from 1950 almost until the turn of the century," Farage said.
"It was a level at which this country was comfortable and that integration was possible and it didn't, crucially, compress the wages."
Farage's party campaigns against large-scale immigration and for Britain to pull out of the EU, saying that both have hit working-class Britons hard.
The party is expected to win only a handful of seats in the May 7 election, according to the latest opinion polls, but could have take away votes from the ruling Conservatives in key seats.
Farage has said that UKIP could support a Conservative minority government in future but only if the 2017 deadline for an EU membership referendum promised by Cameron is brought forward to this year.