UK police seek gang behind "200 million pound" heist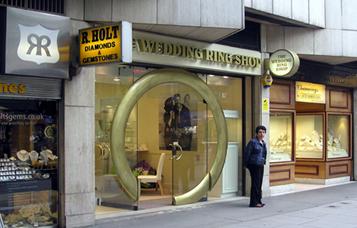 British police were hunting for a gang on Wednesday who raided safety deposit boxes in London's major jewellery business district, making off with cash and gems in what local media said could be the country's biggest-ever heist.
The Metropolitan Police said the thieves used heavy cutting equipment to get into the vault at the officially unnamed deposit business in Hatton Garden, home to almost 300 diamond, gold and gem dealers and more than 50 shops, where they broke into the safety boxes.
According to the Sun newspaper, the gang are thought to have tunnelled their way in through one wall to access a lift shaft at the Hatton Garden Safe Deposit Ltd building on Friday, while businesses were closed for the Easter holidays.
They then abseiled down to the vault and smashed their way in, an unnamed source told the paper. Other media reported that 300 boxes had been raided.
Police gave no details of what was stolen but the Sun said the haul could be as much as 200 million pounds ($300 million), dwarfing the amounts taken in Britain's previous biggest heists.
"Robbery at one of the biggest safe deposits in Hatton Garden over the Easter weekend," London gemologist Thelma West wrote on Twitter. "The loss is Huge."
She said a lot of jewellers and dealers leave their stock in safe deposits over holiday periods.
Diamond expert Lewis Malka, who owns a business in Hatton Garden, tweeted: "Big robbery at one of the safe deposits in Hatton Garden over the Easter weekend. Not good news for a lot of dealers."
On its website, Hatton Garden Safe Deposit Ltd said it was founded in 1954 and was one of the first companies in Britain to offer safe deposit boxes.
"We are currently one of London's most successful and leading safe deposit companies aiming to provide our clients a secure and cost-effective solution to store and protect important and irreplaceable personal belongings," it said.
There was no immediate answer to phone calls or emails from the business.
Britain's record heist was carried out at a Securitas cash depot in Tonbridge, southeast of London in 2006 when robbers stole almost 53 million pounds in cash.
In 2000, police foiled a daring attempt to steal 350 million pounds worth of diamonds from a display at London's Millennium Dome in what would have been the world's biggest ever robbery.