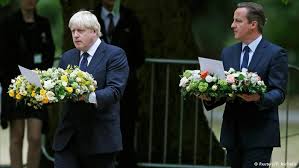 Prime Minister David Cameron led somber tributes on Tuesday as Britain commemorated the 10th anniversary of attacks that killed 56 people in London, the first suicide bombings by Islamist militants in western Europe.
Relatives of the victims, survivors, and senior politicians gathered to remember those killed in the July 7 2005 bombings with emotions still raw after a massacre in Tunisia last month, Britain's worst loss of life in a militant assault since London.
"Today the country comes together to remember the victims of one of the deadliest terrorist atrocities on mainland Britain," Cameron said in a statement.
"Ten years on from the 7/7 London attacks, the threat from terrorism continues to be as real as it is deadly – the murder of 30 innocent Britons whilst holidaying in Tunisia is a brutal reminder of that fact. But we will never be cowed by terrorism."
In the early hours of July 7 a decade ago, four young British Muslims travelled down to London where they detonated homemade bombs hidden in rucksacks on three underground trains and a bus during the morning rush-hour.
Inspired by al Qaeda, they killed themselves and 52 other people and wounded around 700 others. Citizens from Poland, Israel, Australia, France, Italy, Afghanistan, Nigeria, New Zealand and a Vietnamese-American were among the victims.
Cameron and London mayor Boris Johnson stood silently, heads bowed, before laying a wreath at the 7/7 memorial in Hyde Park. They will later join other senior figures, victims' families, survivors and members of the emergency services caught up in the bombings for a service of remembrance at St Paul's Cathedral.
This will include a national minute of silence, which comes just four days after Britain paid a similar tribute to those killed when an Islamist gunman opened fire at the Tunisian resort of Sousse.