UK to accept 'thousands more' Syrian refugees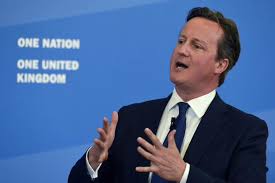 The U.K. will provide resettlement to "thousands more" Syrian refugees, British Prime Minister David Cameron announced Friday morning.
Cameron's pledge came following calls from European counterparts, human rights and charity organizations and some leading figures such as Scotland's First Minister Nicola Sturgeon and former Foreign Secretary David Miliband.
"Britain will act with its head and heart [to find long-term solutions to the crisis]," Cameron told the media in the Portuguese capital of Lisbon.
The refugees are expected to come from UN camps on the border with Syria, and not from among refugees in Europe already.
Earlier, the British premier had said that accepting more refugees into the U.K. was not the answer to the refugee crisis and claimed that the U.K. was doing its bit already.
In response to Cameron's earlier remarks, the Council of Europe Commissioner for Human Rights, Nils Muiznieks, said Thursday: "I am seriously concerned by the British prime minister's position that the U.K. should not provide protection to more refugees from the Middle East."
Muiznieks said that at the moment, the U.K. was doing much less than other European countries, like Germany or Sweden, which gave refuge to thousands of Syrians. "Additional tragedies and shocking pictures could be avoided if political leaders had the courage and determination to uphold human rights standards and common European values," the commissioner said.
Meanwhile, British media coverage of the tragic deaths of two Syrian brothers — three-year-old Aylan Kurdi and his five-year-old brother Galip — caused public outcry.
The British premier said that "he was moved" with the photographs of two young brothers who were washed up to Turkey coast after their attempt to cross to a Greek island failed tragically in the sea.
A parliament petition asking the U.K. government to act to assist refugees is now signed by more than 350,000 people.
Petitions signed by more than 100,000 people can be debated at the parliament.
Germany was the largest recipient of new asylum claims in the EU in 2014, with an approximate 173,100 asylum applications.
The U.K. received 31,300 new applications for asylum by the end of 2014.
According to United Nations, there are 1,938,999 registered refugees in Turkey alone as of August 25, 2015.