UK to launch new radar against 'severe' Russian threat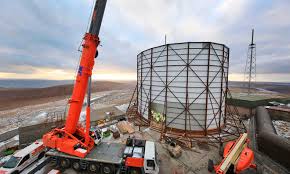 Britain's Defense Minister Gavin Williamson said a new radar off Scotland's Shetland Islands would help tackle the "severe and real" threat from Moscow.
In a return to the Cold War days when Shetland had hosted an early warning radar, the new Royal Air Force facility is being built to track unidentified military or civilian aircraft.
"We will always protect our skies from Russian aggression," Williamson said Friday, describing the radar as vital to British defenses.
"Russia's actions are not limited to Europe's eastern borders — the threat to British livelihoods is severe and real," he added.
The £10 million ($14.1 million) radar on Unst, Britain's most northerly inhabited island, is due to be fully operational soon, the Ministry of Defense said.
Once launched it will feed into the country's quick reaction alert system, which in the past has been used to scramble RAF jets to intercept Russian aircraft.
On Jan. 15 two fighter jets were launched to monitor two Russian military aircraft, which the Ministry of Defense said did not respond to air traffic control authorities.
A total of 69 such operations have been carried out in the past five years, the ministry said without detailing how many involved Russian aircraft.
Williamson's praise for the radar comes as he and defense chiefs up their rhetoric against Russia.
On Thursday the defense minister accused Moscow of spying on Britain's crucial infrastructure, as part of possible plans to create "total chaos" in the country, in comments published in the Daily Telegraph newspaper.
His intervention came after the head of the British army warned Russia poses the "most complex and capable" security challenge since the Cold War.
Chief of the General Staff Nick Carter warned Monday that Britain struggled to match Russia's military capabilities, saying the ability to respond to threats would be eroded "if we don't match up to them now."
The comments come as Williamson, in the post since November, is reportedly pressuring Finance Minister Philip Hammond for more money.