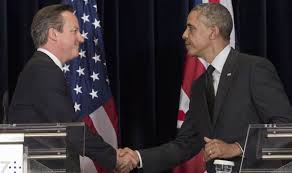 A few days after the hacking of the US military Central Command's social media accounts, the UK and the US have announced a new plan to train an army of experts, joining forces to counter rising cyber attacks.
"Just as we have worked with our closest ally, the US, to protect our people and our countries from traditional threats, so we must work together to defend ourselves from new threats like cyber attacks," British Prime Minister David Cameron was quoted by The Independent.
"This is an evolving threat which poses a real risk to our businesses and that's why we're taking our cooperation with the US to an unprecedented level."
Under the cyber-crime agreement, both countries will be working on protecting their biggest banks, transport systems and energy supplies form online attacks.
The agreement includes launching cyber attacks by the UK & US on each other to test out their defenses against hacking through a series of joint "war games".
The attacks will be carried out by their intelligence services, the MI5 and the FBI.
The first phase of the "war games" will comprise launching simulated online attacks on the City of London and Wall Street to test their defense power.
The online deal will also include establishing a joint "cyber cell" that will enable both countries to share information "about threats and respond to any attempted attacks".
Announced ahead of Cameron's visit to the US, the pioneering deal will be signed today amid increasing threats of cyber attacks following last week's attack on the US military Central Command's Twitter account and YouTube channel.
Last Monday, the background and profile photo of the CENTCOM account were both changed to show an apparent militant and the phrases "CyberCaliphate" and "i love you isis," using one of the acronyms for the militant group.
The formation of an online alliance with the US comes as Cameron seeks introducing "more comprehensive" powers to monitor terror suspects in Britain.
Cameron said that in case he wins the next election, he will introduce a communication data bill dubbed the "snooper's charter" that will give police a sweeping power to monitor online communications.
Calls by Cameron for an immediate revival of the snooper's charter were rejected by the Labors and civil liberties groups.
Last November, British PM David Cameron disclosed that British fighters travelling abroad to take part in the conflict in Syria and Iraq could be prevented from returning to the UK under a new Counter Terrorism Bill.
Under new "exclusion orders" announced by Cameron, suspected fighters would be barred from returning to Britain unless they agreed to be placed under strict controls.
Rights groups criticized the new proposals as being unjust and warned they were pushing Britain into becoming a "police state".