UK Veiled Chef Named Star Baker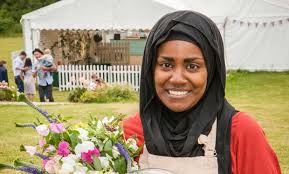 A hijabi Muslim has been crowned as Great British Bake Off queen after beating her two male competitors, defusing the negative stereotypical discourse surrounding Muslim women.
"I'm never going to put boundaries on myself ever again," the Great British Bake Off winner, Nadiya Jamir Hussain, said in her victory speech, The Sun reported on Thursday, October 8.
"I'm never going to say 'I can't do it'. I can. And I will.
"I really hope that I have not become known more for my facial expressions or my eyebrows than my baking."
The Muslim baker won the judges praise with her iced buns, mille-feuille and lemon drizzle wedding cake.
Naming Nadiya Satr Baker, BBC1 judges stressed that she deserves to win.
"I am really proud of Nadiya, not so confident to start with, but over the weeks she has grown in confidence,"presenter Mary Berry told Mirror.
"The finished result had to wow us and Nadiya's Showstopper was stunning. Sheer perfection and I have enjoyed every minute."
On his part, Judge Paul Hollywood said: "Nadiya has brought something special to the Bake Off. Her ideas, flair, her emotions and her passion were all in her bakes, she just nailed the whole final. That was the best tasting final we have ever had."
Spending every second ahead of the two-day final in tuning her bakes, Nadiya said that she was left physically shattered.
"I practiced so much at home before the final, right through the night and even in the morning before I was going to catch my train I squeezed in another practice.
"I was absolutely exhausted before the last two days of filming, because I had done so much practice at home, but I felt I had given myself the best chance to fight for my place. I was pretty tired but high on the adrenaline of what I had achieved so far."
Nadiya, who is of Bangladeshi heritage, feared being dismissed by viewers before the semi-final because of not being a stereotypical British person.
A few days later, praised the positive response she got after appearing at the BBC1 cookery program, saying that it has shown how "tolerant" and "accepting" British society is.
Islam is the second largest religion with results from the United Kingdom Census 2011 giving the UK Muslim population in 2011 as 2,786,635, 4.4% of the total population.
Islam sees hijab as an obligatory code of dress, not a religious symbol displaying one's affiliations.
Last May, an American Muslim woman became the first ever veiled female chef to appear on an American primetime cooking show after joining this season's Masterchef contest on Fox, breaking down negative stereotypes on veiled women.