UN urges Europe to admit 200,000 refugees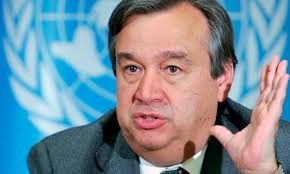 The UN High Commissioner for Refugees called Friday on the European Union to admit up to 200,000 refugees as part of a "mass relocation programme" that would be binding on EU states.
"People who are found to have a valid protection claim… must then benefit from a mass relocation programme, with the mandatory participation of all EU member states," Antonio Guterres said in a statement.
"A very preliminary estimate would indicate a potential need to increase relocation opportunities to as many as 200,000 places," he added.
His call came ahead of a meeting later Friday of EU foreign ministers to discuss the continent's refugee crisis, of which Syrian toddler Aylan Kurdi, whose lifeless body was found face down in the surf on a Turkish beach on Wednesday, has become a searing symbol.
Referring to the pictures of the dead child, which "had stirred the hearts of the world public", Guterres said: "Europe cannot go on responding to this crisis with a piecemeal or incremental approach."
"No country can do it alone, and no country can refuse to do its part," he declared.
His appeal tallied with a call by France and Germany for binding EU quotas to share the burden of the influx of migrants and refugees, which has hit Greece, Italy and transit countries in southeastern and central Europe the hardest.
A European source told AFP that European Commission President Jean-Claude Juncker would next week unveil a plan for the relocation of at least 120,000 more refugees.