Up to 13,000 victims in UK modern slavery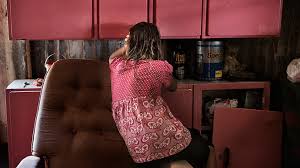 Up to 13,000 people in Britain are victims of trafficking, sexual exploitation or other forms of modern slavery, a government report said Saturday, putting the figure at four times the previous estimate.
The Home Office figures — the first official estimate of the scale of the problem in Britain — included women and girls forced into prostitution or sexually exploited for profit, domestic servants working for little or no pay, and laborers forced to work in farms, factories and fishing boats.
"The first step to eradicating the scourge of modern slavery is acknowledging and confronting its existence," said Home Secretary Theresa May. "The estimated scale of the problem in modern Britain is shocking and these new figures starkly reinforce the case for urgent action."
The report, published as part of the British government's strategy to tackle trafficking and modern slavery, aimed to calculate what it called the "dark figure" of unreported victims not included by the National Crime Agency, which had put the number of victims in 2013 to 2,744.
A government-proposed bill to tackle the problem is being debated in Parliament.
Authorities say the number of reported cases is on the rise in recent years, but the true scale of the problem is difficult to pin down because victims are controlled, hidden, or fear reporting to police. Many the victims are brought in by traffickers from countries including Romania, Poland, Albania and Nigeria, but officials stress that vulnerable British adults and children are also being systematically preyed upon by traffickers. The National Crime Agency estimates that Britain was the third-most-common country of origin for victims identified last year.