US police shoot homeless man (Video)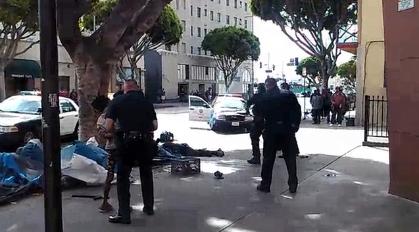 A disturbing video posted online shows a group of American police officers fatally shot a homeless man in a violent altercation in Los Angeles, California.
The armature video showed the police officers scuffle with a man standing on a sidewalk in Skid Row area near downtown on Sunday.
The man remained on the ground while at least one of the officers opened fire.
The cause of the shooting is not clear, but five gunshots can be heard in the footage.
The homeless man was declared dead at a hospital shortly after the shooting, said police spokesman Sergeant Barry Montgomery.
He was identified by witnesses at the scene by his street name "Africa."
Witness Dennis Horne told the Los Angeles Times that when Africa refused to comply with a police order to come out of the tent, the officers used a taser on him and dragged him out. He, however, continued to struggle that led to the shooting.
"It's sad," the witness said. "There's no justification to take somebody's life."
Another witness said the man was asked to take down his tent. The homeless in the area are allowed to remain in the street during the night, but they are supposed to remove their tents in the daytime under a court agreement.
"This man got shot over a tent," said the witness.
https://youtube.com/watch?v=VKD3UFopv_w
The video also shows two officers handcuff a woman after she picked up a baton that an officer dropped.
According to local sources, tension in the area remained high for hours after the incident.
There has been tension across the country following the killing of several unarmed African-Americans by police officers after the officers were not indicted.
Protests were held for months against police violence and racial profiling.
Ferguson has been the scene of violent clashes between police and protesters since the fatal police shooting of 18-year-old Michael Brown on August 9, 2014. He was shot multiple times and killed by a white policeman.