US protesters stop Israeli ship docking at port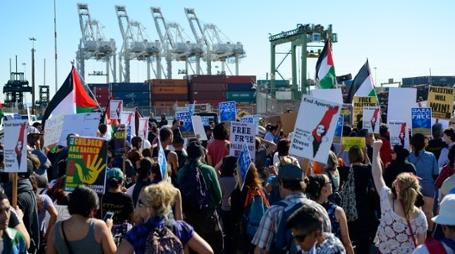 An Israeli ship has failed to dock at the US port of Oakland in California and was left at sea when up to 3,000 pro-Palestinian protesters prevented it from reaching the shore.
The Zim Integrated Shipping Services vessel was scheduled to dock on Saturday , but was instead greeted by protesters who planned to prevent the ship's crew from unloading.
"We have stopped the Zim Piraeus from docking on the west coast of the United States," said a protest organizer declared through a megaphone as crowds cheered.
As many as 70 organizations were taking part in the demonstration, which sought to generate momentum for a broader campaign calling for boycott, the Guardian reported.
A similar protest also prevented an Israeli ship from docking in 2010 after Israel commandos raided an aid flotilla en route to deliver aid to Gaza in international waters, firing on activists with live ammunition, killing ten.