US unveils $1bn Europe security plan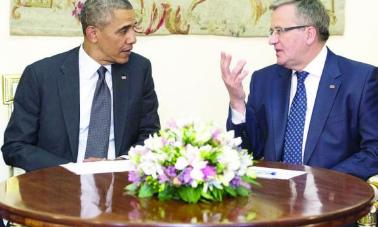 The United States is preparing to boost its military presence in Europe and at a cost of up to $1 billion, President Barack Obama said Tuesday, as tensions in the region simmer over Russia's aggressive actions in Ukraine.
Standing with Polish President Bronislaw Komorowski, Obama said the US plans to send more military equipment and rotate additional American troops into the region. He called on lawmakers back in Washington to provide the funding to sustain the effort.
"Today, I'm announcing a new initiative to bolster the support of our NATO allies here in Europe," Obama said at Warsaw's Belweder Palace. "Under this effort, and with the support of Congress, the United States will preposition more equipment in Europe."
If approved, the funding will be used to increase military exercises and training missions on the continent, as well as rotations of air and ground forces, the White House said. Officials said Obama was also seeking to ramp up US Navy participation in NATO deployments in the Black and Baltic Seas, plus working to boost the military capacity of non-NATO countries that sit on Russia's border, including Ukraine, Georgia and Moldova.