Veteran leader Mahathir wins shock election victory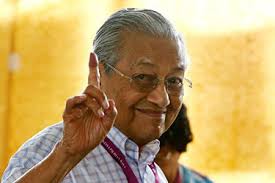 An alliance of opposition parties spearheaded by Mahathir Mohamad won Malaysia's general election on Thursday, official results showed, setting the veteran strongman on course for a return to the Prime Minister's Office he occupied for 22 years.
Mahathir's stunning defeat of the ruling coalition that has ruled the Southeast Asian country since independence from Britain six decades ago means that, at the age of 92, he will become the oldest elected leader in the world.
Official results at 4:08 a.m. (2008 GMT on Wednesday) showed that Mahathir's Pakatan Harapan (Alliance of Hope) had won 112 of parliament's 222 seats, clinching the simple majority required to rule.
Najib's ruling coalition, Barisan Nasional (BN), had 79.
Mahathir is a polarizing figure and many voters are suspicious of him because of his iron-fist rule as prime minister from 1981 to 2003.