Victoria Park is England's most popular park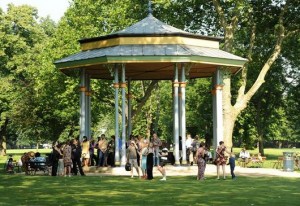 Thousands of people voted to find the most-loved park in Britain with Victoria Park coming in at second place.
Victoria Park in the London Borough of Tower Hamlets, along with eight other parks in the borough was up against 1,448 parks fighting to be crowned the People's Choice for 2013-14.
This year's winner, Margam Country Park in Wales, is home to the 19th century Tudor Margam Castle and a deer park set in a thousand acres of countryside.
The top 25 green spaces also featured Tower Hamlets Cemetery Park & Ackroyd Drive Green Link Nature Reserve in the borough which contains several English Heritage Grade 2 listed Monument.
Mayor of Tower Hamlets, Lutfur Rahman, said: "A record number of parks and green spaces in our borough have been awarded the Green Flag Award for maintaining the highest possible standards and providing excellent spaces to local people.
"Having two of our local spaces in the top 25 people's choice listing is a true testament to the hard work put in by staff and local residents. Our parks and open spaces are a vital part of the community providing essential play and leisure facilities; I am delighted Victoria Park remains amongst the top parks in the nation."
Victoria Park which has won the Green Flag Award three years running continues to grow in popularity after its recent refurbishment which saw the restoration of historic monuments, new play equipment, the creation of a new community facility and café, a new skate park and better sporting facilities as well as the reintroduction of a Chinese Pagoda.
Cabinet member for culture, Cllr Rania Khan, said: "Over the summer our parks were full of families taking advantage of our excellent facilities and events. I am pleased to hear that Victoria Park has performed very well and the national recognition shows our dedication to provide high quality spaces."
Cabinet member for environment, Cllr Shahed Ali, added: "We have over 120 parks and green spaces in the borough from small pocket parks to larger historic spaces. Our parks are important to our residents and we have invested heavily to make them a place for local people to enjoy."
Victoria Park was created in 1847 after a public outcry for green space for the growing East End population.
Today the historic park has matured to host over four thousand trees, numerous lakes, a boating pond, playgrounds and a range of space for sporting activities.