Violence killed 507 in Bangladesh last year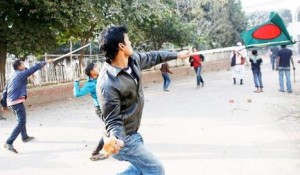 A total of 507 people were killed in political violence in Bangladesh in 2013, making it the deadliest year since the country's independence four decades ago, a human rights group said Tuesday.
The Ain of Salish Kendra (ASK) said most of the deaths occurred during clashes between security forces and opposition protesters over a controversial war crimes tribunal and changes to the electoral system.
"A total of 507 people died in 848 acts of political violence this year," ASK acting executive director Nur Khan Liton said.
"Police used excessive power in handling the opposition protests and in many cases they opened fire," Liton said, adding the group's findings were based on its own investigations and newspaper reports.
The group's figure is nearly twice the number known to have died in the political violence this year. According to an AFP count based on confirmation by police officials, 278 people have died, many by police shooting.
The report came amid escalating violence across the country ahead of a January 5 general election. Opposition protesters demand that Prime Minister Sheikh Hasina quit and call off the polls.
Hasina has vowed to go ahead with the election despite a boycott by all opposition parties and a decision by Western nations not to send monitors for the vote.
On Tuesday an activist from the Jamaat-e-Islami party, the country's largest Islamist opposition party, was killed during clashes with police in the border district of Meherpur, a local officer said.
A ruling party supporter was burnt to death late Monday after opposition protesters allegedly set fire to his shop in another remote border district in the northwest, police said.
Tension also rose in the capital after the opposition led by two-times former prime minister Khaleda Zia called a non-stop nationwide transport blockade from Wednesday to try to scupper the election.
Zia has been under de facto house arrest since Wednesday with scores of policemen cordoning off her residence.