VVIP security deployed for Prince William, Kate in Pakistan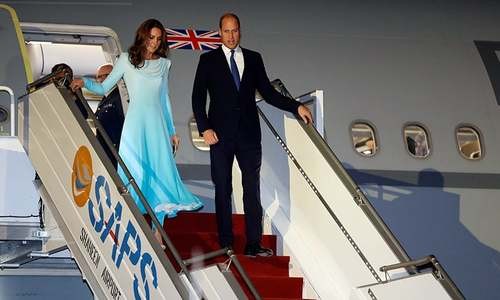 Security personnel from the UK with the assistance of local forces, paramilitary troops and police will be providing security to the visiting royal couple, Prince William and Kate Middleton, during their five-day stay in Pakistan. The royal couple, accompanied by their three children, arrived in Islamabad on Monday night. The trip is the first of its kind undertaken by any member of the British royal family to Pakistan in 13 years.
An advance security team from the UK, comprising over half a dozen personnel, had arrived in Islamabad and reviewed the security arrangements for Duke and Duchess of Cambridge, officials told Dawn news on Tuesday.
Besides, security officials from British High Commission in Islamabad also strengthened the couple's security.
Contingents of the Army, Rangers and Frontier Constabulary (FC) were also taking part in the VVIP security for the visiting royal couple. During their movements in the city, a VVIP route will be put in place to ensure smooth flow of their cavalcade and ensure security. The members of the British royal family will also be provided box security. Arrangements were also made for their stay in the heavily guarded Diplomatic Enclave, said the officials.
Additional contingents of police and paramilitary troops were also deployed on rooftops of high-rise buildings near the Diplomatic Enclave. The Duke and Duchess of Cambridge will visit Lahore on Wednesday, arriving a day later in Chitral, Geo News reported. The royal couple will return to the UK on Friday.
This visit comes after William's father Charles, the Prince of Wales, and the Duchess of Cornwall, Camilla Parker-Bowles, had travelled to Pakistan in 2006 to visit the areas devastated by the October 8, 2005 earthquake.
The other royal visits to Pakistan include two undertaken by Prince William's grandmother, Queen Elizabeth (in 1961 and again in 1997), and three by his late mother, Princess Diana (1991, 1996 and 1997).