Wasfia Nazreen first Bangladeshi to complete 7 summits record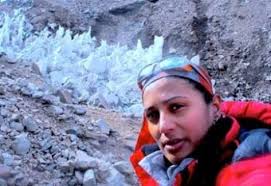 National Geographic Adventurer and youngest Bangladeshi Everest summiteer Wasfia Nazreen successfully reached the summit of Carstensz Pyramid, highest mountain of the Australasia/Oceania continent.
She reached the summit point of the Papuan territory on November 18 at 10:19am with her Indonesian friend Joshua Noya.
Thus, she became the the first Bangladeshi to have scaled the mountain peaks of all the seven continents, also known as the seven summits.
She dedicated the completion of this 4 years long journey to the "Spirit of '71 and all those who are fighting to protect it," Korvi said in the Facebook post.
In her official Facebook page, Wasfia said she was now eager to set foot on her homeland Bangladesh – after four years of pursuing the seven summits.
She called her spokesperson Korvi Rakshand in Bangladesh from the summit, using a satellite phone and said, "Because we had launched this campaign in celebration of Bangladesh's 40 years of independence, it only makes sense to dedicate the completion to the Spirit of '71 and all those who are fighting to protect it. I pray peace return to Motherland soon!"
She gave a special thank to Renata Limited, which fully sponsored the finale of climbing the highest mountains of all seven continents of the world.
Before the climb, the trek into base camp included 220km of grueling trekking through thick mud-clad rainforest, river-crossings, enduring thunderstorms, tropical malaria infested areas and slippery rock faces.
Carstensz entails the most consistently steep and technical climbing of all the Seven Summits at an altitude of 16,024feet or 4884 meters. Deep in the heart of the Sudirman Range in the western central highlands of Irian Jaya lies this mountain also known as Puncak Jaya to Indonesians. Irian Jaya (formerly West New Guinea or Dutch New Guinea) is in present day part of Indonesia, a large collection of islands in southern Southeast Asia northeast of Australia. The bare, rocky, and near-vertical slopes of Carstensz Pyramid rise above the lush jungle environment and small settlements that characterize the moderately large island of New Guinea.