Washing of Kaaba carried out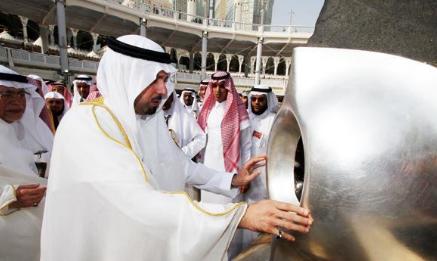 Makkah Gov. Prince Mishaal bin Abdullah bin Abdulaziz led the washing of the Kaaba on Thursday at the Masjid al-Haram (Grand Mosque) in Makkah, on behalf of Custodian of the Two Holy Mosques King Abdullah.
Also participating in the ceremonial washing were Minister of Culture and Information Abdulaziz bin Mohiuddin Khoja; head of the Presidency of the Two Holy Mosques Sheikh Abdul Rahman Al-Sudais, deputy head of the Presidency of the Two Holy Mosques Muhammad Al-Khozaim, Makkah municipal Mayor Osama al-Bar, diplomats from Islamic countries and other Saudi dignitaries.
The ceremonial washing — in which the Kaaba is wiped with cloth wet with a special mixture of Zamzam and rose water — is carried out before the beginning of the month of Ramadan. The fasting month of Ramadan this year starts during the last week of June.
Al-Sudais explained that the ceremony is a sunnah of Prophet Muhammad (peace be upon him), who washed the Kaaba after the Makkah victory.