Washing of the Green Dome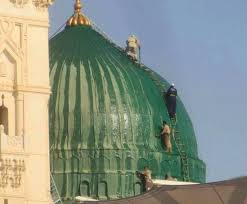 The iconic Green Dome of the Prophet's Mosque in Madinah is being washed as part of preparations for the upcoming Haj season.
The dome in the southeastern corner of the mosque is located over the sacred chamber where the bodies of the Prophet Muhammad (peace be upon him) and his companions Abu Bakr and Omar, two of the righteous caliphs of Islam, remain buried.
The dome was first built in 1279 AD during the period of the Mamelukes. In 1818, Ottoman ruler Sultan Mahmud II built the current dome and it was painted green for the first time in 1837 AD.