'We Need an Equal Integration Strategy for All Britons'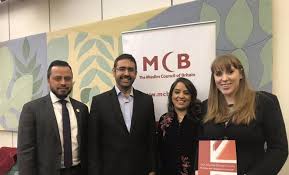 The Muslim Council of Britain has published a special report showcasing diverse voices on integration in the UK. The report sets out a number of expectations of the government approach to integration:
EQUAL INTEGRATION: calls for a vision for a nation for all its citizens as equal partners. This means a recognition that integration must truly be a "two way street" with no specific or special onus on Muslim communities.
REMOVE BARRIERS: Ensuring steps are taken to tackle the real challenges to integration as faced by Muslim communities as identified by Muslim communities.
CELEBRATE BRITISH INTEGRATION: Understand the diversity of Muslim communities and celebrate the successes of our integration model.
FAITH AIDS INTEGRATION: religiosity is not a barrier to integration. It helps communities come together.
DO NOT CONFLATE: Take care not to conflate extremism with integration.
Entitled 'Our Shared Future: Muslims and Integration in the UK' and being launched at Parliament on Wednesday 14 March, the report showcases a collection of over 30 diverse voices on integration in Britain. They come from scholars, activists, specialists and leaders who all bring unique perspectives, expertise and life experiences to this issue.
Harun Khan, Secretary General of the Muslim Council of Britain, will say: "Our report brings together some important perspectives we hope will help inform government thinking on integration. We believe a positive collaborative approach is what is needed to create a vision for a united nation that will shape the future for us and the generations to come."
He added: "I am also grateful to Muslim Aid for their sponsorship of this report and its launch in Parliament. Their UK programmes including The Big Food Drive in partnership with Crisis to feed the homeless and Interfaith Projects are models for our society."
Former government minister, Baroness Sayeeda Warsi said: "Our Shared British Future presents some of these challenges but more importantly projects a positive vision of some of the everyday success stories from across the United Kingdom." Writing in the report, Baroness Warsi states: "A community is best integrated when it feels it belongs and matters."
Shadow Secretary of State for Home Affairs, Diane Abbott, stated: "We must stand up to those who wish to stir division and look to break up our communities, by spreading fear and hatred of the 'other'. We must not merely tolerate difference and diversity, but respect and celebrate its impact on our nation."
Contributors to the report include Baroness Warsi, Rt Hon. Dominic Grieve QC MP, Frances O'Grady, Sir Peter Fahy, Professor Jonathan Portes, Shaykh Ibrahim Mogra, Aalimah Arzoo Ahmed and Dr Khadijah El-Shayyal.