Weeklong hartal from Sunday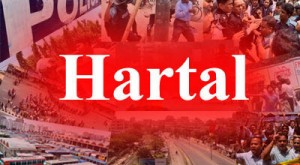 BNP led 18-party alliance is mulling to enforce a weeklong hartal from next Sunday to press home their one-point demand—non-party polls time government.
Policymakers of the opposition alliance have already taken the decision and preparation to make the hartal a success, said party sources.
If BNP chairperson Khaleda Zia did not get any positive assurance to form non-party government to oversee the next general elections during the meeting with the President Abdul Hamid on Tuesday evening, the alliance will declare the non-stop shutdown.
The announcement may come on Thursday or Friday as the opposition wants to give time to the President to take measures as per their proposal, the sources added.