West won't buy blood stained clothes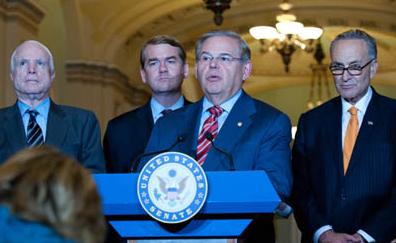 US Senate Foreign Relations Committee Chairman Robert Menendez has said western consumers will not buy clothes that are stained with the blood of Bangladeshi workers.
Menendez, chairman of the senate foreign relations committee, issued the statement on the anniversary of the Rana Plaza tragedy. US Senator has urged the Bangladesh government and the BGMEA to take immediate steps to end the suppression of fledgling trade unions by readymade garment workers.
"If the BGMEA and the government of Bangladesh do not take immediate and concerted steps to end the suppression of fledgling unions, it is only a matter of time before another large-scale tragedy hits Bangladesh's garment industry, and the 'made in Bangladesh' brand is tarnished beyond repair," the senator said.
In the statement, Menendez said, "One year ago this week, the world's conscience was shocked by the deaths of over 1,130 Bangladeshi garment workers when Rana Plaza, the building which housed their factories, collapsed on top of them."
'For many, the tragedy was a call to action.  The U.S. government has suspended trade benefits for Bangladesh until it takes several concrete steps to improve workers' rights and safety.  The International Labor Organization has initiated its largest-ever safe factories program in Bangladesh and coordinated safety inspections, as well as compensation for the victims of Rana Plaza. International retailers have taken important initial steps to address building and worker safety in Bangladesh', said Menendez.
Menendez said, Yet for others involved in Bangladesh's garment industry, the past year has been business as usual.  Many factory owners in Bangladesh have suppressed the formation of unions in their factories by firing union leaders and, according to reports, some factory managers have been involved in vicious attacks on union organizers.
'The industry association for Bangladesh's garment factory owners, the Bangladesh Garment Manufacturers and Exporters Association (BGMEA), continues to represent the old guard of factory owners and has been reluctant to take any action against its members who engage in anti-union activity.  The government of Bangladesh, while making progress in the registration of new unions, still lacks the institutional capacity and political will to protect them.  This has had a chilling effect on labor organizing in the country. Many workers now fear losing their jobs if they join a union and union organizers rightly fear for their own safety' senator added.
Menendez said, Without the strong voice of an independent factory union, workers have no mechanism to ensure their own safety. They cannot make sure that managers keep fire doors shut and stairwells clear, or that cracks in columns and walls are not simply painted over.