WikiLeaks founder Assange hopes to leave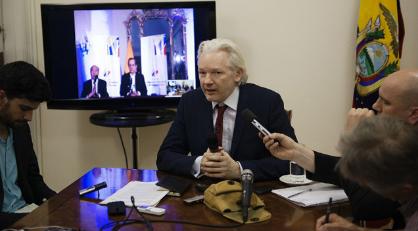 WikiLeaks founder Julian Assange, who has spent over two years inside Ecuador's London embassy to avoid extradition to Sweden, said on Monday he planned to leave the building "soon", but his spokesman said that could only happen if Britain let him.
Britain has repeatedly said it won't back down, that its laws must be followed, and that Assange should be extradited to Sweden to face allegations of sexual assault and rape, which he denies. Assange would be arrested if he exited the building because he has breached his British bail terms.
Assange's comments briefly raised the possibility of him leaving the embassy, somewhere he has been holed up since June 2012. But his spokesman later told reporters that he could only do so if the British government "calls off the siege outside". Assange had no intention of handing himself over to the police, the spokesman said.
The 43-year-old Australian says he fears that if Britain extradited him to Sweden he would then be extradited to the United States where he could be tried for one of the largest information leaks in U.S. history.
"I am leaving the embassy soon … but perhaps not for the reasons that Murdoch press and Sky news are saying at the moment," Assange told reporters at the embassy in central London, before refusing to clarify his comments.
Britain's Sky News, part owned by Rupert Murdoch's 21st Century Fox, had earlier reported that Assange was considering leaving the embassy due to deteriorating health.