Will, Kate crown NY visit with gala dinner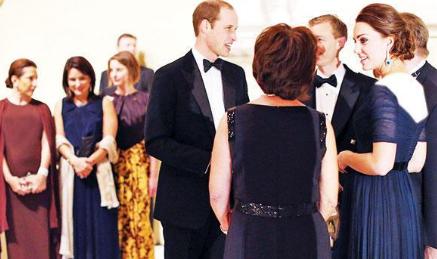 Britain's Prince William and his wife Kate on Tuesday crowned their whirlwind tour of New York with a glittering gala dinner to raise money for the university where they fell in love.
The Duchess of Cambridge, resplendent in a midnight blue evening gown by the British designer Jenny Packham, swept up the steps of the Metropolitan Museum of Art with a huge smile on her face — despite the near-freezing weather.
Her hair fashioned into an elegant chignon and wearing drop emerald and diamond earrings, the duchess, who is five months pregnant, kept her baby bump nestled under the cinched waist and billowing skirts of the gown.
She and her husband, who was dressed in black tie and dinner jacket, mingled with guests in the opulent museum's Velez Blanco Patio.
Hundreds of candles illuminated the stairwell at the benefit supper, which celebrated the 600th anniversary of the University of St. Andrews in Scotland and which will raise money for scholarships.