Wills, Kate meet Aussie military families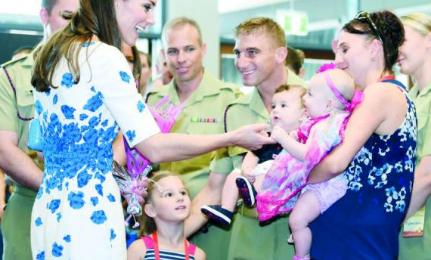 Britain's Prince William and his wife Kate met with the families of Australian soldiers killed in recent conflicts Saturday and took a front-row fighter jet seat as their tour headed north.
The royal couple were presented with a boomerang for their infant son, George, and delighted Olympians and ordinary folk alike during a whistlestop tour of Brisbane, Australia's third-largest city.
Huge crowds turned out to greet the imperial pair, who began their day at the Amberley Air Force base with military formalities including a guard of honor and flyover by two F/A-18 Super Hornets.
William, who trained with Britain's Royal Air Force and whose grandmother Queen Elizabeth II is Australia's head of state, was first to inspect the next-generation Boeing fighter jet, offering his wife a tongue-in-cheek invitation as he climbed aboard.
"Do you fancy jumping in the back?" he joked.
Dressed in a blue and white poppy print dress from L.K. Bennett, the Duchess took straight to the cockpit, keenly inspecting the jet's dials and controls.
Poppies are a symbol of remembrance in the military community.
Air Force chief Air Marshall Geoff Brown said the couple were impressed by the Australian weather compared with neighboring New Zealand, where they were last week.
During their tour of the base twins Elijah and Tobee Dyer, aged three-and-a-half, presented Kate with a tiny boomerang — an Aboriginal tool — for her infant son George who remained in Sydney on Saturday.