World's largest umbrellas to be installed at Makkah Grand Mosque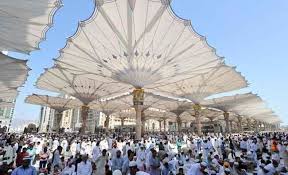 Folding umbrellas will be installed at the Grand Mosque's courtyards and roof next year to protect pilgrims from the sun and heat, said commanders of Hajj security forces.
The umbrellas will cover 53×53 meters, making them the largest in the world. The commander of the forces responsible for security at the mosque, Maj. Gen. Mohammed Al-Ahmadi, said temperatures are quite low inside the mosque due to air conditioning, but the umbrellas will provide comfort for pilgrims in the courtyards and on the roof.