World's oldest person "kind of" happy to turn 116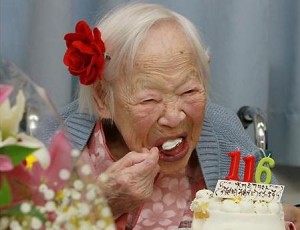 Misao Okawa, a Japanese woman believed to be the world's oldest person, turned 116 on Wednesday and celebrated by tucking into a white cake decorated with strawberries and candles.
She credits a healthy appetite and getting plenty of rest for her longevity.
Okawa was born in 1898 — the year that the United States annexed the Hawaiian islands, a new drink named Pepsi-Cola was launched and the USS Maine exploded in Havana harbor.
Accepting bouquet from well-wishers at a small party in the nursing home where she lives in the western city of Osaka, Okawa sat by the cake, decorated with "116" in candles, and later pronounced it as "delicious."
She wore a pink kimono patterned with cherry blossoms and a blue cardigan for the event. Asked if she was happy to have lived so long, she replied, according to the Asahi Shimbun daily: "Kind of."
Born the daughter of a fabric merchant in Osaka in 1898, on the same day as Chinese revolutionary leader Zhou Enlai, Okawa married in 1919. Two of her three children are still alive, both of them in their 90s.
She is known for her strong appetite and one of her favorite foods is sashimi, or raw fish. In the past six months she has gained 4 kg (8.8 lbs), Japanese media said.
Okawa has been dubbed the world's oldest living person since the June 2013 death of 116-year-old Jiroemon Kimura, also Japanese. She is the tenth person verified to have reached 116 and the third oldest Japanese person ever.
Japan is one of the world's most long-lived nations, with nearly 54,400 centenarians as of September 2013, according to the health ministry.