World's tallest and shortest men meet for first time in London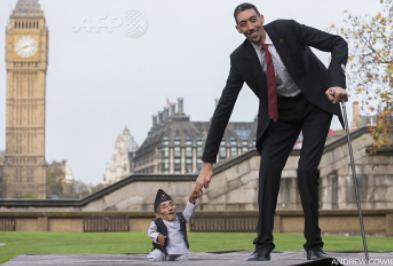 The world's tallest and shortest men met for the first time in London to celebrate the 10th annual Guinness World Records Day.
Sultan Kosen, 31, a part-time farmer from Turkey, is eight foot three inches tall while Chandra Bahadur Dangi, 75, from Nepal, measures only 21.5 inches.
Mr Kosen said: "I love London and to be able to finally meet Chandra after all this time is amazing. Even though he is short and I am tall, we have had similar struggles throughout our lives."
Thousands of other budding Guinness World Records title hopefuls from across the world were taking part in GWR Day 2014.
In China, the title for the most people eating breakfast in bed was smashed with 388 people in Pudong Shangri-La, east Shanghai, tucking in to their morning meal simultaneously. The record for the largest rice mosaic (1,798 sq.m) was also broken.
UK highlights were expected to include the longest line of cakes (record to beat is 606.6 metres) led by BBC Gloucestershire for Children In Need.