Yulia Skripal leaves hospital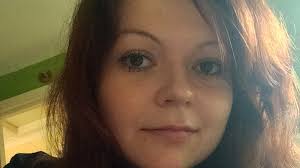 Yulia Skripal has left hospital more than five weeks after she and her father, a former Russian spy, were poisoned with a nerve agent in an attack that has sparked one of the biggest crises in the West's relations with the Kremlin since the Cold War.
Yulia and Sergei Skripal, 66, a former colonel in Russian military intelligence who betrayed dozens of agents to Britain's MI6 foreign spy service, were found unconscious on a public bench in the English cathedral city of Salisbury on March 4.
Britain accused Russia of being behind the nerve agent attack and Western governments including the United States expelled over 100 Russian diplomats. Russia has denied any involvement in the poisoning and retaliated in kind.
The Skripals were in a critical condition for weeks and doctors at one point feared, even if they survived, they might have suffered brain damage. But the Skripals' health since then has begun to improve rapidly.
Yulia, 33, has been discharged from Salisbury District Hospital, Christine Blanshard, medical director of the hospital, told reporters on Tuesday and her father could be discharged in due course.