Yusuf Islam launches drive to help migrant children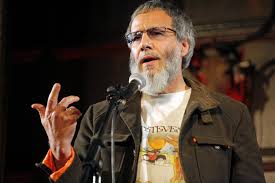 British singer-songwriter Yusuf Islam, formerly known as Cat Stevens, launched a campaign on Friday to highlight the fate of child refugees in Europe with the release of a new single and plans for a one-off charity concert.
The single, He Was Alone, was released with a video that follows a boy who loses his family before dying on the road with his gravestone bearing just one word, walad, meaning boy in Arabic.
Save the Children said it was estimated that 95,000 refugee and migrant children traveled to Europe on their own last year, or lost their families on the journey.
Yusuf, 67, best known for his 1960s and 1970s hits such as "Moonshadow" and "Wild World", said he had become involved after visiting a refugee camp in southern Turkey near Syria.
Yusuf, who converted to Islam in 1977 after almost drowning and largely quit the music industry for nearly 30 years, said the single and London concert on June 14 were part of a broader campaign #YouAreNotAlone.