PM condemns attack on Zafar Iqbal
Zafar Iqbal knifed on SUST campus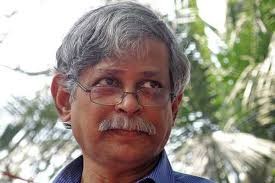 Noted writer and thinker Professor Muhammad Zafar Iqbal sustained head injuries as he was stabbed by an unknown assailant on the campus of Sylhet's Shahjalal University of Science and Technology (SUST).
Zafar Iqbal, a faculty of SUST's Computer Science and Engineering Department, has been stabbed at a prize-giving ceremony of the university, said assistant proctor Jahid Hasan.
Law enforcers detained the attacker but his identity could not be confirmed immediately.
Renowned writer and educationist Zafar Iqbal has been rushed to Sylhet MAG Osmani Medical College for treatment.
The attacker stabbed him on the back of his head, leaving him injured. SUST students caught the attacker from Shikkha Bhaban after the attack, according to witnesses.
Elias Uddin has informed that Zafar Iqbal has been taken into surgery. A hospital source, who was reluctant to disclose his name, said Zafar Iqbal bled profusely after the attack.
Prime Minister Sheikh Hasina on Saturday strongly condemned the attack on Dr Zafar Iqbal and asked the authorities concerned to bring the perpetrator to justice.
"The Prime Minister is constantly inquiring about Muhammad Zafar Iqbal," PM's press secretary Ihsanul Karim said, reports UNB.