Zakir Naik named Islamic Personality of the Year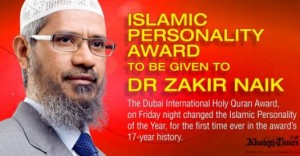 Famous Islamic debater Dr. Zakir Naik has been conferred the Dubai International Holy Quran Award for the Islamic Personality of the Year 1434 Hijri.
The award will be given at a special ceremony at the Dubai Chamber of Commerce tonight.
The award was initially announced for Grand Imam of Al Azhar Dr. Sheikh Ahmed Al Tayyeb but due to unrest in Egypt the organizing committee decided to honor him in future and instead chose Dr. Zakir Naik.
Dr. Zakir Naik is the founder of Islamic Research Foundation and Peace TV, a 24-hour channel that features talks by Islamic preachers.