1.61 million follow King Salman on Twitter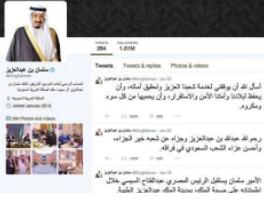 Custodian of the Two Holy Mosques King Salman has become a widely followed world leader on Twitter, while his popularity is progressively growing on other social media networks. The new king has overtaken many leaders on the popular microblogging site, and he is currently being followed on all social sites by Saudi citizens, scholars and world leaders.
"Following the death of King Abdullah, the newly crowned King Salman gained thousands of Twitter followers," said a social media monitoring site called Topsy. It disclosed that the new king's twitter followers increased to 1.61 million until Sunday. King Salman changed his Twitter name from @HRHPSalman to @KingSalman and hours later, his new handle received more than 130,000 mentions on the network, it said.
"The growth in terms of the number of followers is mainly because of King Salman's reputation as a visionary and hard-working leader," said an IT expert. Referring to the king's Twitter account, he said that King Salman wrote after King Abdullah's death the following words: "God rest the soul of King Abdullah…" The king later tweeted: "I am asking God to help me serve the dear people and realize their dreams, and protect our country, ensure security and stability, and protect us from all evils."
PR specialist Saleh Al-Johani said that the king is being widely mentioned on social media. There is an atmosphere of excitement and activity with the curiosity to know about Saudi Arabia and its leadership following the sad demise of King Abduallah as people around the world reacted to his death on social media with deep sorrow.
Soon it became a trending topic on Facebook, Twitter and YouTube with people from across the globe congratulating the new king and offering condolences on the death of King Abdullah. Reacting to the news of King Abdullah's death, there were thousands of posts on websites praying for him. One Neha Adil Mustapha wrote on FB wall: "May Allah accept his great deeds and place him high in Jannah….Ameen. Insha'Allah."
Another one, Anessa Usman Tan, wrote: "No Doubt he was a king of humanity … He was very helpful both to Muslim and non-Muslim countries… May Allah grant him Jannah."
As he was respected across religious lines, Rose Berry, a Filipino, commented on Facebook: "You were indeed one of the greats of your time … Thank you for helping Yolanda victims."
An overwhelming 87 percent of Saudi users of social media are men, who are currently watching and participating in the new developments. A number of posts have called on the new king to help solve regional issues, while many of them have drawn parallels between the founder of the Kingdom, late King Abdul Aziz, and King Salman, who inherited many of his father's traits and skills, including his faith and a passion for knowledge.
King Salman is an avid reader of history, sociology, politics and economy, and his personal library, which he has amassed over several decades, testifies to his love of culture.