13 winners honored at Saudi Arabia's King Abdelaziz Quran competition
Prince Faisal said the prize represents how blessed Saudi Arabia is for honoring the Qur'an's people around the world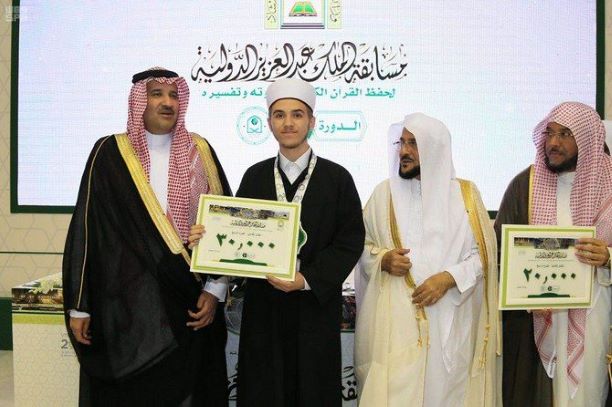 The 13 winners of the 40th King Abdulaziz International competition for memorizing, reciting and interpreting Qur'an were honored during a ceremony on Wednesday.
Prince Faisal bin Salman, Governor of Madinah, sponsored the ceremony and honored the winners at the Prophet's Mosque in Madinah, where the competition was being held for the first time.
The contest was split into four categories. In the first, Ibrahim bin Abdullah Al-Saui, from Saudi Arabia, took the SR250,000 ($67,000) top prize. Malek Othman, from Jordan, was second, receiving SR200,000, while third place went to Nigeria's Musib Guru, who won SR150,000.
In the second category, Haitham Safar Ahmed from Kenya came first, winning SR120,000; Obaidah Maan Abdul Salam Freihat from Jordan was second, receiving SR100,000; and Abdul Ghani Amin from Nigeria and Abdulqader Kindi from Libya finished joint-third, each receiving SR40,000.
In the third group, Mohammed Shahid Ismail from the Philippines took the SR60,000 first prize, with Sadiq Ali Mftah Khalid from Libya finishing second and receiving SR50,000. Yahya Bilal Yousef Yaqoub from Bahrain picked up the SR45,000 third prize.
In the fourth category, Amin Samir Hrabovic of Serbia came top, winning SR40,000, followed by Omar Farouq Bakrvotch of Bosnia and Herzegovina, who received SR 30,000. Third-placed Ahmed Halim Azur from Sri Lanka won SR20,000.
Prince Faisal said the prize represents how blessed Saudi Arabia is for honoring the Qur'an's people around the world through this competition, under the patronage of Saudi King Salman.
He also commended the role played by the Ministry of Islamic affairs, Endowments, Dawah and Guidance in supervising and following on organizing the competition.
Prince Faisal highlighted the king's "unlimited support" for those who memorize the Holy Qur'an and his patronization of local and international recitation competitions.
For his part, Minister of Islamic Affairs Dr. Abdullatif Al-Asheikh thanked the king and Crown Prince Mohammed bin Salman for their constant attention to the Holy Qur'an. He congratulated the winners, wishing them success in their future careers.