16 Bangladeshis receive prestigious Chevening Scholarships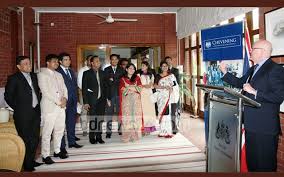 Sixteen Bangladeshis have been awarded prestigious Chevening Scholarship Award, which allow the potential future leaders to unleash their achievement.
The selected students will study in the United Kingdom (UK) this academic year.
On Wednesday, the High Commissioner Robert Gibson hosted a reception for them at his residence.
The British HC said, "Chevening is the UK government's flagship international program that allows future leaders, influencers and decision-makers from around the world to unleash their potential."
"Chevening Scholars are the leaders that can shape tomorrow's future," he said.
Gibson further said they would be the members of an exclusive club of over 40,000 Chevening alumni from over 150 countries.