800,000 more pilgrims due this year after Makkah grand mosque expansion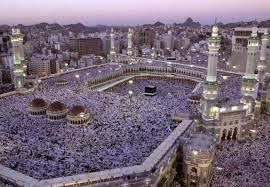 Some 800,000 more pilgrims are expected this season following completion of expansion works at the Grand Mosque.
A report by the Ministry of Hajj and Umrah said this year's Umrah season witnessed the arrival of some 7 million people.
The ministry is working with pilgrimage institutions to raise capacity for future Umrah and Hajj seasons, and to establish a modern hospitality industry in line with Vision 2030 and the National Transformation Program (NTP) 2020.
The report cited infrastructure achievements in Makkah, Madinah and the holy sites to provide better services for pilgrims and visitors.
It also cited strategic initiatives launched by the ministry, such as the electronic observation and control center to connect pilgrim service centers with decision-makers and improve coordination between all parties involved in Hajj.
The report highlighted the ministry's "Be Helpful" voluntary program, which is being implemented for the first time this Hajj season.
The program aims to serve pilgrims, develop services offered to pilgrims, and gauge the performance and effectiveness of voluntary work.
The report said the ministry is aware of the importance of enhancing the role of women in serving pilgrims via official and seasonal jobs.
Prince Abdullah bin Bandar bin Abdul Aziz, deputy governor of the Makkah region, ordered the formation of a multilateral committee to ensure the safety of buildings dedicated to accommodating pilgrims.
The committee comprises representatives from the Ministry of Hajj and Umrah, the Civil Defense and Tawafa establishments, in cooperation with specialized technicians and engineers.
Prince Abdullah presided over a meeting of Tawafa and Zamazemah establishments, which was attended by Minister of Hajj and Umrah Mohammed Salih Bentin and heads of the institutions.
The deputy governor reviewed plans for this year's Hajj season, which aim to serve more than 2.2 million pilgrims.