A seminar on the subject "BDR Tragedy of Bangladesh" held in London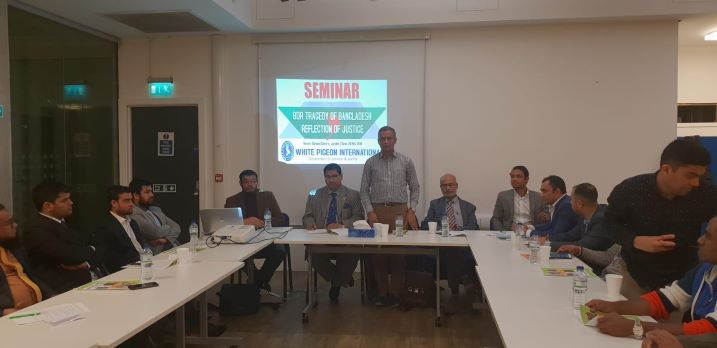 On 26 February 2019, a seminar titled "BDR Tragedy of Bangladesh; Reflection of Justice" was held at the Osmani Center in East London, organized by the London-based human rights organization "White Pigeon International". Former Adviser to the President of Bangladesh Mokhlesur Rahman Chowdhury addressed the seminar as the chief guest and the prominent journalist former press secretary to the President of Bangladesh Mr Shamsul Alam Liton addressed the seminar as the special guest and the seminar was jointly conducted by the organization's Secretary General Md. Abu Naser.
A UK based prominent human rights lawyer, Newham Council's Deputy Speaker Barrister Nazir Ahmad presided over the seminar.
Chairman of the organization Mohammed Ala Uddin presented the keynote paper on "BDR Tragedy of Bangladesh 2009" in the seminar.
The speakers at the seminar said that the February 25, 2009 is a tragic day in Bangladesh and world history. On this day, 74 people were brutally killed in the name of Pilkhana BDR mutiny, amongst which 57 were army officers and 17 civilians, including the wife of BDR DG (Director General). Besides this, there are questions about the death of more than 28 people during the trial period and the question remains unanswered. The speakers said in the seminar that the human rights organizations have expressed their deep concern over these deaths. In the seminar, the leaders of the seminar called the BDR rebellion of Pilkhana as a "barbaric killing" and they remembered them with great emotions. The speakers said that this cruel assassination could not be called a rebellion in any way; rather they reckoned it as a deep conspiracy against the vigilant watchmen of the country Bangladesh Army and the sovereignty of Bangladesh. Though many investigations committee were formed to investigate on this massacre, the speakers expressed anger over the fact that no full report has been published till today and the actual conspirators have not been identified.
Vice Chairman of the organization Monirul Haque, Shakeel Minhaj and Shoaibur Rahman, and Joint Secretary Md. Abdul Hafiz, Treasurer Mohammad Mazharul Islam Bhuiyan, Executive Member Mahmud Ahmad, Abdus Salam, Tariqul Islam, Ali Shahzada, Zahidul Islam, Fahad Ibne Iqbal, Mohammed Masudul Hassan, Raihan Chowdhury, Online Activist Forum UK president Zainal Abedin, Secretary Delwar Hossain, former student leader Yusuf Ali, Media personality Omar Faruk, Community personality Nur Baksh, Ashikul Islam, Foyez Ullah, Md Mostaq Ahmed, Bodruzzaman Babul and others spoke in the seminar.