An Inter Faith Ifter With Armed Forces & Community Leaders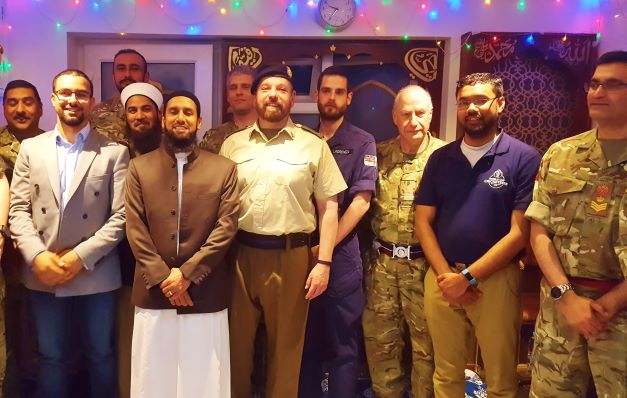 M F A Zaman: Ramadan is the ninth month of the Islamic calendar. The holiday celebrates the first revelation of the Quran to Islamic Prophet.
In blessed month of Ramadan, an inter faith Ifter organised by the London Fatwa Council. In 20th May Monday evening guests from all faiths and community gathered to show their support and unity with Muslim faith. Also Muslim and Non-Muslims stuff members from Civil service, Ministry of defence, British Army, Royal Air Forces joined to share their experience to work with Muslims around the world especially in Ramadan.
It was an evening of sharing thought with food after 18 hours fasting. Guests stared to come after Asar Salah. Islamic Religious Advisor, Ministry of Defence ImamAsim Hafiz OBE and the Rabbi of British Army Mr Reuben joined with guests to break thefast for the Muslim festival of Ramadan.
At the beginning of the evening, the host Imam Mohammad YazdaniRaza, the Chairman of London Fatwa Council welcomed the guests and hesaid, London Fatwa Council has delighted to invite people from all faiths, especially the members of the Armed Forces who serve the country. Ramadan is a special and blessed month for Muslim Ummah. It is the best month for Muslim to show the kindness, love to the all faiths. Because Muslims are going through a difficult moment but never be hopeless. It is test for us from the Almighty God Who is most Merciful. Allah said in Surah Insyirah, Verily, along with every hardship is relief. So we must stand for community cohesion to make our world a better and safe place for our future generation. And Islam is religion of peace and taught us to protect Non-Muslim. The Prophet Mohammad (pbuh) said, Beware, whoever is cruel and hard on a Non-Muslim or curtails their rights or burdens them with more than they can bear or takes anything from them against their free will, I am Prophet Mohammad will complain against the person on the Day of Judgement – Abu Dawud

Imam Asim Hafiz OBE said, the Muslim believes in peace as the follower of Prophet Mohammed (pbuh). As an Imam in British Army, I am serving the humanity. Because Prophet Mohammed (pbuh) said, When any part of the body suffers, the whole body feels pain
So as a Muslim we are part of the humanity. If any faiths, communities got attacked or in pain then it will hurt the Muslim because we are part of it. And to find God, we need to serve His creation. It is very important to respect each other belief and support in common matters. And as a Muslim we follow and practice our faith and be an example to others. Alhamdulellah it is proud for British Muslims because today more than 800 Muslims serving in the UK Armed Forces, stationed in Britain and around the world. I have seen the remarkable and positive contributions Muslim serving in the UK Armed Forces. So let's make a change in the blessed month of Ramadan to co-operative with your Muslim and Non-Muslim neighbours, friends and share the food with love.
The RabbiMr Reuben said, It is an honour to attend the Inter Faith Ifter with my Muslim brothers in local community and Armed Forces. Jews and Muslims believe in One God Who is Kind and Merciful. Our religion taught us to be kind, helpful to the humanity. It is very unfortunate that due to political reason, we are divided. Even it is tough as a Muslim when you served in Armed Forces in different countries. All over the world, the Muslims are suffering but it needs to be ended. As a Jews Ruby I would request to everyone for toleranceand tranquillitybecause Prophet Mohammad (pbuh) and other Prophets has shown the way of living the life with peace and love. And let's start it from Ramadan by sharing food.
The guests gathered in the London Fatwa Council's office, eating to break the fast. Local neighbours brought food to share with Non-Muslim guests.The Muslim guests and Army stuffs shared their experience of Ramadan with Non-Muslim guests. After Ifter Muslims engaged in Magrib prayer which is the fourth of the five main daily prayers. It was a great evening in Inter Faith to build up a strong community.