Apple briefly worth more than $900B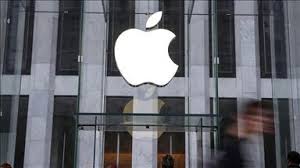 Apple's valuation briefly topped $900 billion for the first time Friday. Shares of the tech giant were boosted by an impressive quarterly earnings report released a day earlier as well as the release of the highly anticipated new flagship iPhone X.
By midday trading, Apple's market capitalization had fallen to $892 billion, but analysts were excited by the prospect it could soon be the first American company to be worth more than $1 trillion. The company's value would have to increase about 11 percent to cross that threshold.
A Chinese energy company briefly topped $1 trillion in 2007.
Apple posted revenue of $52.6 billion, beating analyst forecasts of $50.7 billion in the fourth quarter, when it sold 46.7 million iPhones — 3 percent more compared to the same period in 2016 and 600,000 more smartphones than analysts predicted.
Apple expects sales of the iPhone X, its most expensive version, to be strong through the holiday season. As of Friday, shipment dates in the U.S. were five to six weeks in the future. Around the world, customers lined up early Friday outside Apple Stores to be among the first to own the new smartphone.
"The bottom line is that Apple is dominating high-end smartphones and associated services," analyst firm Macquarie said in a note Friday. "Our bullish view of [iPhone] X is driven by the fact it is the most innovative iPhone in years, and that the more limited innovation of iPhone 7 still led to 215 million phone sales."
Shares of Apple grew more than 3 percent to an all-time high of $174.10 Friday morning. Several hours later, the stock was trading at $172.80.
For much of 2017, investors were concerned interest in new iPhones had waned and growth of the company had stalled – a narrative that Apple's most recent earnings call proved false.