Attempts to berate war hero Zia : Tarique Rahman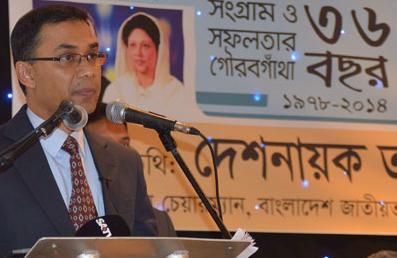 Despite attempts to implicate Ziaur Rahman in the assassination of Bangabandhu Sheikh Mujibur Rahman, his role in the Liberation War cannot be negated, BNP's senior vice chairmen Tarique Rahman has claimed.
He was addressing an event to mark the party's 36th founding anniversary organised in East London by BNP's UK unit in the early hours of Tuesday BdST.
Tarique Rahman, reiterated that it was his father, not Mujib, who announced Bangladesh's independence in 1971.
Over 500 party activists attended the gathering presided over BNP's UK chapter chief Shaesta Chowdhury Kuddus and conducted by General Secretary Koysar Ahmed.