Baby princess named Charlotte Elizabeth Diana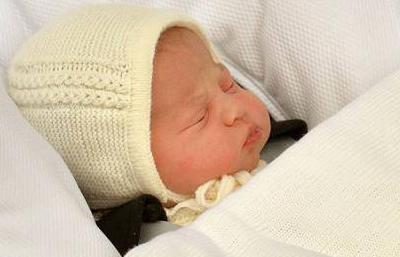 Prince William and his wife Kate have named their two-day-old baby Charlotte Elizabeth Diana and she will be known as Princess Charlotte of Cambridge, their Kensington Palace residence announced Monday.
The names will be seen as a triple homage to her grandfather Prince Charles, great-grandmother Queen Elizabeth II and William's late mother Diana, whose death in 1997 prompted a global outpouring of grief.
"The Duke and Duchess of Cambridge are delighted to announce that they have named their daughter Charlotte Elizabeth Diana," the palace said in a statement.
"The baby will be known as Her Royal Highness Princess Charlotte of Cambridge," it added.
The name Charlotte was one of the favorites for bookmakers and it has historic royal standing.
King George III's wife Queen Charlotte (1761-1818) was an amateur botanist who used her middle name instead of her first name Sophie.
George IV also named his only child Charlotte but she died in childbirth at the age of 21 in 1817.
William and Kate's new daughter is the first British princess who won't face royal discrimination because she's a girl, but that doesn't mean her life will be a fairy tale.
Thanks to a change in the centuries-old rules of royal succession, if Princess Cambridge has a younger brother, he won't overtake her in line to the throne.
But in a world where girls are encouraged to embrace pretty-in-pink princess imagery from birth, the royal daughter born Saturday is bound to face a level of scrutiny her elder sibling Prince George won't have to worry about.
Claudia Joseph, author of "William and Kate's Britain," said that as a future king, third-in-line-to-the-throne George can expect a life of "duty and responsibility."
His sister "will have a more carefree life, but on the other hand, we live in a world obsessed with looks. Nearly every woman nowadays is constantly under scrutiny."
The experience of Kate — and, even more, of the baby's late grandmother, Princess Diana — suggests the level of interest the princess can expect. Every outfit, every hairstyle, will be recorded, commented on, copied.
"Are we really still in the 1950s with gender norms?" tweeted Laura Sheldon, a 16-year-old student.
"I don't like the way the media are emphasizing the baby is a girl and companies exploiting this in their marketing," Sheldon told the AP in an e-mail. "The whole 'pink for girls' and 'blue for boys' thing is so outdated and too conservative for what should be a progressive society."
Royal historian Robert Lacey said princesses face a different burden than princes.
"There's so much enduring sexist comment," he said. "It remains legitimate for the media — and social media even more — to comment on women's dress and appearance.