Bangladesh court jails Khaleda Zia for 7 years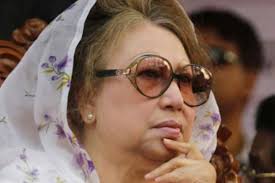 A judge sentenced Bangladesh's former Prime Minister Khaleda Zia to seven years in jail Monday after finding her guilty of misusing her power to collect money for a charity fund named after her late husband.
Her supporters see the multiple criminal cases against Zia and her party as attempts to weaken the opposition ahead of elections expected in December. But the government says they have specific charges against those accused.
The 73-year-old Zia was absent from the filled courtroom in Dhaka and her lawyers also skipped the proceedings, saying they would not get justice. The Supreme Court earlier Monday had rejected Zia's appeal to halt the verdict.
Zia is serving a prison term of five years in a separate corruption case and was transferred to a hospital earlier this month for what her party said were multiple medical problems. Her party says both cases are politically motivated.
Judge Md Akhtaruzaman found Zia had misused her power while leading the government in 2001-2006 by collecting $375,000 from unknown sources for the Zia Charitable Trust Fund named for Ziaur Rahman, the former military chief and president who was assassinated in 1981.
The judge sentenced three others, including a former political secretary of Zia, to seven years in jail each for collecting the money.
Mosharraf Hossain Kajol, a prosecution lawyer, said after the verdict that they were happy as the judge gave the defendants the highest punishment for the offenses.
Zia faces more than 30 other cases pending in courts across the country, and her Bangladesh Nationalist Party says the cases are a misuse of the government's power as Zia's longtime rival, Prime Minister Sheikh Hasina, seeks a third consecutive term in the next elections.
Zia and her politcal partners boycotted the last general elections in 2014, paving the way for Hasina to return to power despite protests and violence. Zia's main partner right wing Jamaat-e-Islami, a fierce opponent of Hasina, is attempting to regain its strength after the executions of its top leaders for war crimes involving the 1971 independence war against Pakistan.
A newly formed opposition alliance led by a prominent lawyer is demanding the resignation of Hasina and formation of a neutral election-time government. But Hasina says she will head the government in line with the constitution to hold the elections. An election schedule is expected in the first week of next month.