Bangladesh factory owner faces murder charges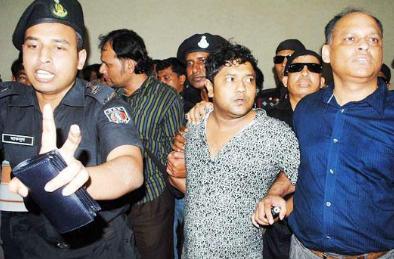 Bangladesh police said they will press murder charges on Sunday against the owner of a garment factory that collapsed and killed more than 1,100 people in 2013, the worst industrial disaster in the country's history.
Sohel Rana, owner of the Rana Plaza factory complex on the outskirts of the capital Dhaka, was among those who were expected to be formally charged over the disaster, lead investigator Bijoy Krishna Kar said.
"We are going to press murder charges against 41 people including the owners of the building, Sohel Rana and his parents, later today," Kar told AFP, adding that if convicted all could be sentenced to death.
"It was a mass killing. All 41 of those charged have a collective responsibility for the tragedy," he said.
Police announced last year they were set to charge Rana, who was arrested on the western border with India as he tried to flee the country days after the April 24, 2013 factory collapse.
But the process was held up after police needed government approval to frame charges against a dozen government officials included in the 41, a standard requirement in Bangladesh.
Police will later Sunday submit chargesheets to Dhaka's chief judicial magistrates court, which is expected to officially accept the charges and set a date for a trial.
Rana became Bangladesh's public enemy number one after survivors recounted how thousands of them were forced to enter the compound at the start of the working day despite complaints about cracks appearing in the walls.
"They (Rana and the factory owners) discussed and decided to keep the factory open. They sent the workers to their deaths with cool heads," Kar said.
Rana and others will also be charged with violating the building code, for illegally extending the six-storey building, which was initially approved as a shopping centre, into a nine-storey factory complex.
"That illegal extension violating all construction (regulations) was the seed of this massive disaster," Kar said.
Among the others expected to be charged are seven owners of the garment factories and three government engineers who approved the extensions to the building.
The mayor of Savar industrial town, where the factory was located, along with a local councillor, also face murder charges for ignoring breaches of building and factory laws.
The disaster highlighted appalling safety problems in Bangladesh's $25 billion garment industry, the world's s econd largest after China's.