Bangladesh High Commission London organises Students Achievements Awards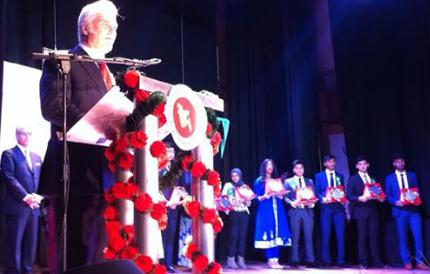 Bangladeshi High Commissioner to the UK Mohammod Abdul Hannan said that,he hopes one day Britain will be lead by the British-Bangladeshi students. He also said British Bangladeshi students' achievements are outstanding. Muhammod Abdul Hannan said this in a meeting organised by Bangladesh High Commission to award eighty British Bangladeshi students who achieved outstanding grades in GCSE and A Level exam.
The Student Achievement Award 2014 took place on 1st March in Camden Centre in Central London. DFID Minister Desmond Swayne MP was present as the Chief Guest in this award giving ceremony.
The special guests who attended the meeitng included visiting Fisheries and Livestock Secretary Mrs Selina Afroj, Vice-Chair APPG on Bangladesh, Lady Shaikh APPG, Nick Day Vice MP, Frank Dobson MP, former member of European Parliament Robert Evans, Miss Lambert MEP and GLA member Morad Qureshi.
In his speech, Desmond Swaynee MP said that education is not only important to build career, it helps to build morale too. He also said that religion is important, however, parents should be careful that one is not being radicalised by the misinterpretation of religion.
Frank Dobson MP said that in 1971, they supported the liberation war in Bangladesh. He hopes that Bangladesh will only travel towards the development.
The event was started with the national anthem of Bangladesh. The event was presented by Diba Chakrabarty, where cultural organisation Tridhara Shilpi Ghosty performed cultural dance. Laboni Barua and Amit Dey performed music.
Bangladesh High Commission has been organising this award ceremony since 2006. Assistant High Commissioner drew the closing of the event with his speech expressing his pleasure for the achievements of the students.