Bangladesh Islamist leader Ghulam Azam dies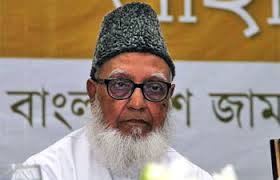 Bangladeshi Islamist leader Ghulam Azam died on Thursday aged 91, just over a year after he was sentenced to 90 years in prison for masterminding atrocities during the country's 1971 independence war.
Azam was the wartime head of Jamaat-e-Islami — the country's largest Islamist party — and latterly its spiritual leader. During his trial, prosecutors compared him to Nazi leader Adolf Hitler.
Azam died of a heart attack while at a hospital in the Bangladeshi capital Dhaka, director of the clinic Abdul Majid Bhuiyan told reporters.
"He died of cardiac arrest at 10:10 p.m. on Thursday," the director said.
Azam's son, Abdullahel Azmi, told AFP earlier on Thursday that his condition had deteriorated, prompting doctors to put him on life support.
"He was suffering from old age complications. He also did not get adequate care in the hospital," his lawyer, Tajul Islam, said.
Islam said Azam would be buried in a family graveyard in Dhaka after a funeral, expected to be held on Friday.
In July 2013, a special war court set up by the country's secular government found Azam guilty of five charges of planning, conspiracy, incitement, complicity and murder during the war against Pakistan.
He was described as a "lighthouse" who guided all war criminals and the "architect" of pro-Pakistani militias which committed many atrocities during the war, in which three million people were killed.
When India intervened at the end of the nine-month war in 1971, the militias killed dozens of professors, playwrights, filmmakers, doctors and journalists.
Many of the bodies were found a few days after the war at a marsh outside Dhaka, blindfolded and with their hands tied behind their backs.
Azam was described as the "mastermind" behind the massacre of the intellectuals.
Prosecutors sought the death penalty but Azam was spared execution due to old age.
The one-time political science professor and author of over 100 books dabbled with left-wing politics before joining the Jamaat in the 1950s.
He led the party when Bangladesh — known as East Pakistan after the partition of British India in 1947 — went to war against Pakistan.
Under his leadership, the party opposed secession from what was then West Pakistan, which lay 2,000 kilometers (1,235 miles) away, with only Islam, the faith of the majority, binding the two peoples together.
After independence, Bangladesh canceled Azam's citizenship and banned Jamaat and other faith-based parties when it adopted a secular constitution.
Azam returned to Bangladesh bearing a Pakistani passport in 1978, three years the nation's founding leader Sheikh Mujib was assassinated. A junta was in power which permitted Islamist parties to operate openly.
His political rehabilitation was complete in 1993 when the Supreme Court returned his citizenship. After the judgment, he offered some regret for past activities but fell short of giving a full apology for his wartime role.
Although his party never won more than five percent of votes, he played a kingmaker's role after democracy was restored in 1990, allowing the Bangladesh Nationalist Party (BNP) to come to power.
In 1996, he changed tack and allied with Sheikh Hasina, the current premier and the daughter of independence hero Sheikh Mujib, helping force her bitter rival Khaleda Zia of the BNP to resign and accept a caretaker administration.
Before he quit politics in 2000, Azam steered Jamaat back to an alliance with Zia's center-right party ahead of the 2001 polls. Zia won by a landslide and formed a cabinet which included two ministers from Jamaat.
Hasina stormed back to power in 2009 on the back of growing youth-led anti-Islamist sentiment. She vowed to try all those suspected of war crimes and a wheelchair-bound Azam was arrested at his home in January 2012.