Bangladesh to use electronic voting machines in polls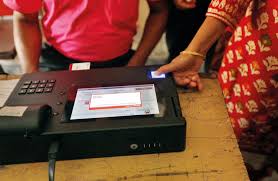 Bangladeshi president on Wednesday gave a go ahead to the use of electronic voting machines, first time in the country's history, for the next general elections to be held in December this year, local media reported.
President Abdul Hamid promulgated the ordinance of the amendment to the Representation of the People Order with provision of using electronic voting machines in the elections, said Bdnews24, a local online news agency.
Hamid's move came a day before his scheduled meeting with the election commission officials to discuss issues pertaining to parliamentary elections.
Opposition parties are opposing the use of machines, saying the government took sudden decision for "digital corruption" in the polls.
Md Joynal Abedin, president's press secretary, told the news agency that the country's Law Ministry will issue a gazette notification on the ordinance.
Earlier, Cabinet Secretary Md Shafiul Alam had said "the amendment would be issued in the form of an ordinance as there was not enough time to push it through parliament ahead of the election."